Japanese Garden Journal
Links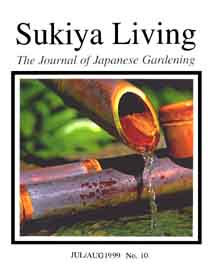 Here are some Sukiya Living contacts that we respect and recommend:
EAST WIND, INC Len Brackett's company builds traditional Japanese-style homes for Western customers. East Wind is the standard bearer for high-quality Japanese carpentry in North America.
BOWDOIN COLLEGE Prof. Clifton Olds manages this constantly evolving website that provides expanded information about Kyoto's most famous gardens.
JAPANESE GARDEN DATABASE Robert Cheetham has compiled the internet's largest and most important Japanese garden authority site.
STONE LANTERN DISCOVERIES This company is North America's number one supplier of hard-to-find Japanese garden tools such as aluminum tripod ladders, Okatsune hand snips, and the new Adachi Art Museum book.
INTERNATIONAL BONSAI ARBORETUM There's no doubt about it: Bill Valavanis is the major leadership figure in American bonsai today. Among other roles, he is the publisher of International Bonsai Magazine.
HANSELMAN LANDSCAPE Jim Hanselman's full-service company builds and maintains high-quality Japanese gardens for clients in the Mid-Atlantic region.
TAKEHEI BAMBOO Junji Kagata's company provides bamboo timbers and bamboo goods to teahouse carpenters throughout Japan. JOJG's Kyoto Garden Tour visits Takehei Bamboo's stunning bamboo warehouse each year.
NATURE'S WAY NURSERY For 30 years James Doyle has provided high-quality bonsai and Japanese garden trees to clients in the Mid-Atlantic region.
YUKI NARA Yuki Nara was born in Japan and now works as an aesthetic tree pruner in the San Francisco Bay area. Her workshop classes on pruning Japanese maples are very popular.
PLANE-SPOKEN Woodworker Craig Klucina specializes in handcrafted shoji, tansu, and other fine elements of Japanese interior design.
SHIN-BOKU NURSERY This New Hampshire nursery is North America's best source of Japanese garden specimen trees.