Japanese Garden Flowers
Flowering Trees & Shrubs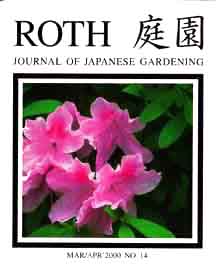 What is the role of Japanese flowers in the Sukiya Living Environment? Well, herbaceous annuals and perennials are not commonly used in Japanese gardens. Flowering trees and shrubs, however, are abundant. Flowering azaleas, in particular, are very popular and can be seen in nearly every Japanese garden.
JOJG publishes regular articles about Japanese flowers and flowering trees and shrubs. Below are a few examples of those articles.
-----------------------------------------------
PRUNUS MUME This 4-page article is about Prunus mume, the Japanese Flowering Plum tree. Known as ume in Japanese, this tree is beloved for the pink and white plum blossoms it produces near the end of the winter season.
ENKIANTHUS This 4-page article is about a wonderful Japanese garden plant that is particularly elegant not to mention useful. It can be used as an accent, specimen tree, or tamamono shrub.
CRAPE MYRTLE This 4-page article is about Lagerstroemia indica, commonly known as the Crape Myrtle tree. Known for it's smooth, handsome bark, the Crape Myrtle also produces late summer flowers.
THE CHERRY TREE MYTH This article is about the myth that cherry trees are commonly employed in Japanese gardens. The truth is that cherry trees are rarely used in Japanese gardens, partially due to their lack of four-season beauty.
FLOWERING TREES & SHRUBS This article points out that Japanese flowers are not main players in the Sukiya Living Environment. Instead of Japanese flowers, the article suggests ten different flowering woody plants that would make nice additions to any Japanese garden.
--------------------------------------------------------------