Public Japanese Gardens
Japanese Gardens in North America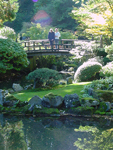 There are more than 300 public Japanese gardens in North America. The best public Japanese gardens are listed in JOJG's annual North American Japanese Gardens survey (see below). But for every public garden that is either successful or well-known, there are at least a dozen public Japanese gardens that are lesser known and would like to improve themselves.
JOJG publishes many articles with these Japanese gardens in mind. How can public Japanese gardens improve their maintenance efforts? How can Japanese gardens solve their financial problems? How can public Japanese gardens promote themselves better? These are just a few of the questions JOJG tries to explore. The magazine is eager to help leaders of public Japanese gardens find answers and do their jobs better.
JOJG readers who wish to visit Japanese gardens will find useful the reviews posted in the "Public Japanese Gardens" section of the magazine. Several times each year, JOJG reviews public Japanese gardens in North America and elsewhere. A few of the articles are posted below.
--------------------------------------------------------------
NORTH AMERICAN JAPANESE GARDENS SURVEY Here is The Journal of Japanese Gardening's most recent survey of top Japanese gardens in the United States and Canada. Conducted in 2004.
MAINTAINING AUTHENTICITY IN JAPANESE GARDENS Phyllis Reynold's article is based upon her experience as head of the garden committee at the Portland Japanese Garden (see photo, above). Maintaining authenticity can be difficult when public Japanese gardens are influenced by diverging political interests.
ANDERSON JAPANESE GARDENS This is a garden review of one of North America's top Japanese gardens. Located in Rockford, Illinois, the Anderson Japanese Gardens placed first in our 2004 survey.
RENOVATING JAPANESE GARDENS Gerald Rainville's article is titled "Touch the Japanese Garden." It discusses the very different paths of Renovation versus Restoration. Because Japanese gardens are living and constantly changing, so-called "historic preservation" is often the wrong approach.
VOLUNTEERISM IN JAPANESE GARDENS Dick Austin's 1998 article discusses how teams of volunteers can enhance and improve public Japanese gardens.
WESTERN ADAPTATIONS IN JAPANESE GARDENS This article by Sumiro Kawamoto stressed that public Japanese gardens in Western countries can and should be expected to be somewhat different than traditional gardens seen in Japan.
PORTLAND JAPANESE GARDENS Prof. Kendall Brown spent one month traveling in the Rocky Mountains and Pacific Coast regions, visiting 25 public Japanese gardens along the way. One garden stood head and shoulders above the rest: The Portland Japanese Garden.
ASTICOU AZALEA GARDEN This article is a short review of the Asticou Garden, a particularly graceful Japanese garden located at the head of Northeast Harbor on Mt. Desert Island, Maine.
MORIKAMI MUSEUM AND JAPANESE GARDENS The Morikami Japanese Gardens are a large and interesting landmark in Delray Beach, Florida.
--------------------------------------------------------------