Japanese Garden Journal
Tea Accessories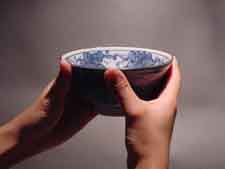 All aspects of the Japanese Tea Ceremony are carefully orchestrated. This attention to detail certainly extends to the items used in a tearoom. Prior to the tea gathering, the host will put considerable effort into selecting only the tea accessories that best match the mood of the season and the tastes of the invited guests.
The Japanese Garden Journal occasionally publishes articles about the different tea accessories used during the traditional Japanese Tea Ceremony. These articles cover topics such as Japanese pottery, Japanese tea cups, Japanese tea pots, ikebana, Japanese calligraphy, and even the special containers that hold the green tea used during the Japanese Tea Ceremony.
A few articles related to Japanese tea accessories are presented here:
----------------------------------------------------
TEA UTENSILS This 6-page article provides a general description of all of the items found in a traditional Japanese tea set.
RAKU POTTERY This 4-page article is titled "Landscapes in a Teabowl." It is about raku pottery and the beautiful patterns seen on Japanese teacups.
TEA ROOM FURNITURE Have you always imagined that tea house interiors are completely Spartan in appearance? Here are some furniture items that can be found there.
TEA FLOWERS Most tea rooms have a tokonoma for displaying ikebana flower arrangements or other items such as suiseki or bonsai.
TEAHOUSE ARTWORK This 4-page article is about the artwork that is commonly displayed in tea room tokonomas. Calligraphy or tasteful ink paintings that reflects the beauty of the seasons are appropriate. Indeed, the appreciation of nature and art is a central theme of chanoyu.
INCENSE This article is about the special incense that is occasionally burned during the tea ceremony. Incense is not a mandatory tea element, but it is often used during "full set" tea events.
--------------------------------------------------------------