Japanese Garden Journal Issue #1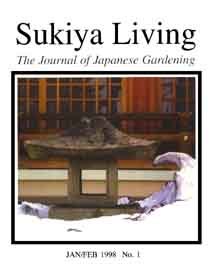 January/February 1998
Contents:
Japanese Garden Design: Design it Yourself.
What is Japanese Carpentry? by Dale Brotherton.
Homegrown Help.
Basic Pruning: No Stubs!
Advanced Pruning: Creating Cascade Branches.
Water Gardening: Using Large Edge Rocks.
Japanese Garden Myths: Flowers in the Garden.
Sciadopitys verticillata: A Cold Weather Substitute for Podocarpus macrophyllus.
A Japanese Feel for YOUR Garden: Privacy Screens.
Public Garden Review: The Morikami Museum.
Leadership Profile: Julie Moir Messervy.
Book Reviews: "Cha-no-Yu", by A.L. Sadler, and Michael A. Dirr's "CD-ROM Photo Library of Woody Landscape Plants."
Tools, Tips, and Techniques: Pruning Tools.
How-To Q&A.
The Japanese Garden Marketplace.