Japanese Garden Journal Issue #6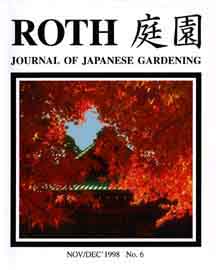 November/Dec. 1998
Contents:
Japanese Garden Stepping Stone Paths, by Joan M. Ferguson.
The Need for Maintenance Endowments.
The Power of Stone: The Hiraniwa Stage.
Eye Training for Back Yard Gardeners, by Kathleen Fink.
Advanced Pruning: Cookie-cutter Pines.
Japanese Garden Myths: Branch Wiring.
Architecture: A Garden Show Exhibit.
Nishiki Goi: Koi Morphology.
Koi Pond Filtration: Four Essential Elements, by Tom Burton.
Horticulture: Mondo Grass as a Moss Substitute, by Tony Bishop.
Cutting Stone, by Sean Smith.
Volunteerism and Public Japanese Gardens, by Richard Austin.
Leadership Profile: Marc Peter Keane.
Book Review: "Create Your Own Japanese Garden."