Japanese Garden Journal Issue #8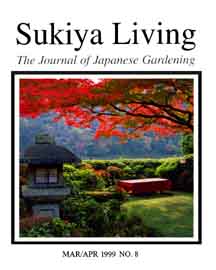 March/April 1999
Contents:
Chanoyu: Cleaning My Tea Garden, by Kathleen Fink.
Building Japanese Garden Paths, by Henry Ferguson.
The Bamboo Park at Hakone Gardens, by Bruce Parkinson.
Publisher's Essay: Training Gardens.
Japanese Garden Design: Park Bench Surrounds.
Endowment Follow Up.
Advanced Pruning: Radial Branch Distribution.
Nishiki-goi: The Utsuri Varieties.
Japanese Garden Myths: Candle Removal.
Architecture: Residential Roof Choices.
Japanese Garden History: Yokei-zukuri Niwa no Zu.
Spontaneous Vegetation, by Gerlinde Langthaler.
Tools, Tips, and Techniques: Scribe Fitting Posts.
Leadership Profile: Osamu Shimizu.
Book Reviews: "A Japanese Touch For Your Garden."
The Japanese Garden Marketplace.