Japanese Garden Journal Issue #19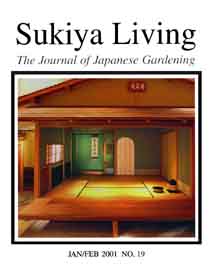 January/February 2001
Contents:
Garden Stepping Stones: Setting Tobi-ishi, by Asher Browne.
The Niwa Club.
Japanese Garden Design: Design it Yourself.
Natural Patterns: How Rivers Turn.
Stone Lantern Style Classifications, by Gary Bolstridge.
Morikami's Unique Indoor Teahouse, by Tom Gregersen.
Care & Management of Temperate Bamboo, by Adam Turtle.
A Japanese Touch: The Roberts Garden, by Richard J. Roberts.
Learning a Complex Art, by Cynthia Kingsbury.
Ken Nakajima Obituary.
JOJG's Calendar of Events.