Japanese Garden Journal Issue #44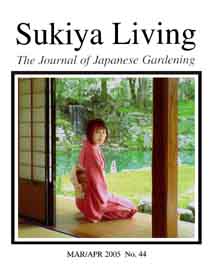 March/April 2005
Contents:
Japanese Culture: The Japanese Sword.
Nishikigoi: Koi For Sale, by Tamao Goda.
Publisher's Essay: Human Parameters.
Viewpoints: Overrated & Underrated. Essays by David Slawson, Asher Browne, Tim Hansken, Kendall H. Brown, Robert Cheetham, J.Skuba, John Powell, Steve Beimel, William Stufflebeem, Len Brackett, David De Groot, Peter Wechsler, Clifton Olds, and Adrian Bennett.
Human Ergonomics: Enhancing the View, by John Powell.
Architecture: A View from the Tub, by Tim Hansken.
Path Construction: Nobedan Corner Stones.
Basic Pruning: A Flexible Wrist.
Advanced Pruning: Straight Tree Trunks.
Letters, Q&A: Wabi-sabi is Legitimate.
Calendar of Events.
Japanese Garden Marketplace.
Cover Photo: Chashitsu Shigure-tei in Kanazawa.