Japanese Garden Journal Issue #58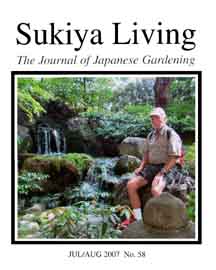 July/August 2007
Contents:
Cover Photo: Gerald Corbeil at Heian Kaikan.
Publisher's Essay: Lifelong Study.
Viewpoints: DIY or Not? Essays by Tamao Goda, Tim Hansken, Dennis W. Burns, Asher Browne, Michael Alliger, Masashi Oshita, and Bill Castellon.
Basic Pruning: Species Concerns.
The History of Tatami, by Tamao Goda.
Advanced Pruning: Three Good Reasons for Starting at the Top.
The Power of Stone: Fitting Stones Together.
2007 Shiosai Rankings: The Top 35 Sukiya Living Spaces in Japan.
Letters, Q&A: Organic Wood Preservatives.
Leadership Profile: Tokushiroh Tamane.
Book Reviews: "Create Your Own Japanese Garden."
Tour Announcement: JOJG's 2007 Fall Botanical Garden Tours.
Announcement: Adachi Comes to USA.
Sukiya Living Marketplace.
Back Cover Ukiyoe by Kuniyoshi.