Japanese Garden Journal
Japanese Maples & Japanese Gardens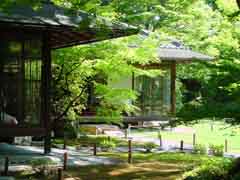 Japanese maples play a role in Japanese gardens, but not because they're "Japanese" and not because Japanese homeowners enjoy collecting fancy cultivars. The truth is more subtle and related to the delicate aesthetic qualities unique to momiji.
In the gardens of Japan, the Japanese maple tends to appear as a mid-size tree positioned to send lateral branches up and over the viewer's head. In this manner the delicate green leaves of the maple float above and soften the mood of the entire garden space. Homeowners enjoy the dappled sunlight that filters down through the tree. As a deciduous plant, the Japanese maple reflects the changing seasons, with tender green leaves in the spring and brilliant displays of color in the fall.
When used properly and in moderation, the Japanese maple tree is an excellent addition to any Sukiya Living space. The following articles describe this special tree and how it is used in Japanese gardens:
---------------------------------------------------------------
TWO TYPES OF GARDEN MAPLES There are two main forms of Acer palmatum employed in the gardens of Japan: upright maples that float overhead, and dissectum maples that serve as specimens or background plants.
GREEN JAPANESE MAPLES This 4-page article talks about the virtues of green Japanese maple varieties. The article explains why it is the green, and not the red, Japanese maples that provide so much of the grace and dignity seen in the gardens of Kyoto and other parts of Japan.
JAPANESE MAPLE SPECIMEN TREES In the Japanese garden a specimen tree stands alone and is prized for its own personality and aesthetic beauty. Specimen trees in Japanese gardens are usually pines, but occasionally a Japanese maple tree is used. This article describes the ideal characteristics of a specimen maple.
THE AESTHETIC QUALITIES OF MOMIJI Why do the Japanese like maples so much? The answer might surprise Westerners, who tend to collect plants and be "wowed" by unique or fancy cultivars. No, in Japan most gardeners enjoy using maples in their gardens because of the way momiji tend to fade into the background and soften the mood of a garden space.
JAPANESE MAPLE BONSAI VS. GARDEN TREES Bonsai trees are planted in pots while garden trees are planted in the ground. That is just one of many differences between the Japanese maples that are used in bonsai and the ones that float overhead in garden spaces.
---------------------------------------