Japanese Garden Journal
Where the Water Meets the Land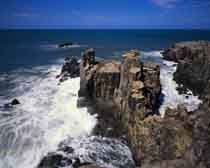 Some of nature's most distinctive patterns occur along sea coasts and beside rivers where water action has eroded the soil, leaving exposed rock in its place. Japanese gardens capture these patterns by using large edge boulders beside garden streams and pond waterfalls. The edge rocks are placed in specific patterns that provide a convincing natural effect as well as providing for erosion control.
A landscape with natural stone provides many opportunities for the aesthetically-sensitive Japanese gardener. He can evoke the beauty of the seacoast, with sea cliffs beside a koi pond. Or he can use natural landscape edging materials to capture the gentle beauty of a mountain lake. Natural patterns serve as inspiration while centuries of Japanese garden trial and error provide the hands-on techniques needed to capture such scenes.
JOJG publishes regular articles about water-related natural patterns and how they are evoked in high-quality water gardens. Some articles are posted below for your review:
---------------------------------------------------------------
BAY-HEAD BEACHES One of nature's most beautiful scenes occurs where gracefully-curved beaches run between two rocky outcroppings. This article examines that pattern in detail.
SUCCESSFUL POND EDGING Much of this article is dedicated to examining gogan-ishigumi, the famous stone edging pattern seen in many Japanese gardens. A mastery of this technique is essential if you want to create convincing ponds and streams.
COASTAL OUTCROPPINGS One important natural pattern occurs along rocky seacoasts where wave action has eroded the land and formed promontories and sea cliffs. With a little effort, it is possible to capture the essence of that rugged coastline pattern and apply it in your own Japanese garden.
EROSION CONTROL It's not good enough to simply create a garden that is stunningly beautiful. Your garden also needs to be durable and able to hold up over decades of rain storms and foot traffic. This article examines the subject of erosion control, especially in areas where flowing streams are adjacent to plants and top soil.
LINK YOUR POND TO THE SURROUNDING LAND This article examines Japanese garden stone-setting techniques that can be used to make water gardens more naturally convincing.
---------------------------------------