Japanese Garden Journal
Water Basin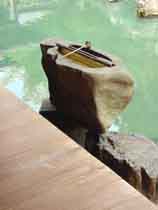 Japanese garden ornaments are among the more visible and charming elements in a Sukiya Living Environment. While by no means required, many Japanese gardens include at least one stone water basin in the composition.
These ornaments are a simple and inexpensive way to bring the charm of running water into a small garden space. In Japan, water basins are part ornament, part garden sink. Water basins are a very important part of the tea ceremony, but this does not preclude their use in other styles of gardens.
Water basins, also known as tsukubai or chozubachi, have both aesthetic and functional roles in the Japanese garden. For example, besides looking very attractive, in residential settings they serve as outdoor garden sinks. And in Japanese tea gardens, they play an important "freshen-up" role in the traditional tea ceremony.
In the west these handsome stone basins have experienced renewed popularity as miniature water gardens and water garden basins. When positioned under rain chains they can be used to collect the rain chain run-off and serve as a cistern or outdoor goldfish bowl.
JOJG publishes regular articles about water basins and tsukubai arrangements. Topics can range from copper rain chain evaluation to water basin maintenance. A few of the articles are posted below for your review.
--------------------------------------------------------------
WATER BASIN LAYOUT This 4-page article is about Japanese water basin layout. In the Japanese language, stone water basins are called chozubachi or tsukubai. This article is titled "Tsukubai Layout." The article suggests specific details about a water basin's position, including basin height and the proper horizontal distance from the user's body to the basin's center.
WATER BASIN RECIRCULATION SYSTEM Most Japanese tsukubai are used as garden sinks and supplied with fresh water from a bamboo spout. Some Western garden owners, however, enjoy water basins merely as Japanese garden ornaments. In such cases, the homeowner might wish to employ a recirculating system to avoid water loss. This article by David Hockstein explains details about constructing that type of system.
BASIN ALTERNATIVES The traditional Japanese tsukubai is the best known, but there are other Japanese garden accessories that employ water. This article examines a few other garden ornaments that might fall into the category of water basin or garden sink.
COIN WATER BASINS Some, but not all water basins play a role in the Japanese tea ceremony. One such basin is the "coin" style of basin that is shaped like classic Japanese currency. The saying on the basin, ware tada taru wo shiru, can be translated as "I learn only to be contented."
GINKAKU-JI STYLE BASIN Some water basin styles are more distinctive than others. One of the most memorable styles is the Ginkaku-ji style basin. It resembles a giant cube with a checker-board lattice cut into each side. This basin is much more than an outdoor garden sink. Read this article to learn more.
---------------------------------------