Sukiya Living Magazine (JOJG)
Gardens in Japan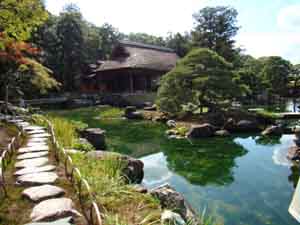 Any serious fan of the Sukiya Living Environment will eventually feel compelled to travel to Japan. There is no substitute, of course, for seeing in person the great Japanese gardens and sukiya-style homes that are the root source of the entire tradition. It doesn't matter if you are interested in palace gardens, Japanese rock gardens, or the Japanese tea garden: ALL of the very best examples are located in Japan.
Japan travel is not easy. For first-time visitors who do not speak Japanese the easiest way to visit Japan is to join a GARDEN TOUR that is specifically tailored to introduce you to Japanese culture and show you the very best Sukiya Living spaces. JOJG offers these kind of events every year.
More experienced travelers who have mastered some Japanese might want to travel independently so they can visit a specific Japanese garden or a specific region. Many of them start by focusing on gardens Kyoto area. Kyoto's most famous gardens are Kinkaku-ji, which is also known as the "Golden Pavilion", and the famous dry garden at Ryoan-ji. These are not Kyoto's highest-quality gardens, however, and serious enthusiasts will spend their time elsewhere.
The truth is that there are truly wonderful gardens in every region of Japan. While Kyoto has a great density of gardens, they aren't of the highest quality. Japan's very best gardens are scattered throughout Japan in places like Shimane Prefecture, Izu, Kanazawa, and there are even some noteworthy gardens in Tokyo.
JOJG publishes regular garden reviews about Japan's best gardens and about Sukiya Living spots that might be of interest to our readers. We sometimes publish articles about about country inns, traditional Japanese restaurants, onsen hot springs resorts, and art museums that - in Japan, at least - are very often surrounded by fabulous garden spaces. Together, all of these articles serve as a kind of travel giude for Japan. Some of these "Public Garden" articles are posted below for your review:
--------------------------------------
MURIN-AN This two-story sukiya-style house and the "lawn" garden surrounding it are the #2 ranked garden in Kyoto (behind Katsura). Murin-an is not mentioned on the Kyoto map that all the tourists carry around, but it is well worth the visit.
THE GYOKUDO ART MUSEUM This museum is located in Western Tokyo at the former home of Gyokudo Kawai, one of the great masters of the Japanese traditional art known as Nihonga. In addition to boasting a spectacular mountain setting and a top-ranked Japanese garden, this museum hosts a few of Japan's most famous landscape paintings.
THE ADACHI ART MUSEUM Simply put, The Adachi Art Museum has the best garden in the world. Read this article to learn more.
KYOTO FUMIN HALL This article by Adrian Bennett profiles a little-known garden that is attached to a concert hall in central Kyoto. With a teahouse and a fabulous koi pond, few gardens pack as much beauty into a tennis-court size space.
YAMAMOTO-TEI This is the top-ranked garden in Tokyo and the #3 ranked garden nationwide. Yamamoto-tei is a "community rest house" that is located in a sprawling sukiya estate in Katsushika-ku. To experienced the sukiya lifestyle at its best, consider spending a relaxed afternoon at this spot.
KENROKU-EN Japan has a few very large stroll gardens located at former Daimyo estates. This garden, located in Kanazawa City in Ishikawa Prefecture, is one of the best examples of that style.