Sukiya Living Magazine
Natural Pools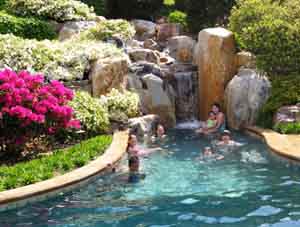 In Japan, the garden tradition has not generally included swimming pool designs, but in the West, at least, it has already produced some fabulous luxury swimming pools.
These articles examine inground swimming pools and pool landscapes that have already been built. Included is information on traditional Japanese techniques such as how to build a pool waterfall, how to hide concrete by properly setting edge stones around the pool, and how to select and maintain pool landscaping at the water's edge.
To be convincing, natural swimming pools require an enormous amount of skill in construction. Few pool professionals in Japan or in the West have ALL of the required skills necessary to pull it off, including a thorough knowledge of everything from swimming pool engineering to delicate Japanese garden aesthetics. Read these articles to learn more about the few who do and the fabulous backyard swimming pool designs they have completed for their clients.
---------------------------------------------------------------
SWIMMING POOL LANDSCAPING This 8-page article describes a backyard paradise created through the skillful use of swimming pool landscaping. Titled "Pittsburgh Shangri-la," the article profiles one of the stunning inground swimming pools that landscaper Jim Lampl has created in Western Pennsylvania.
THE ROGERS GARDEN This spectacular project involves a natural swimming pool positioned directly next to a family's breakfast nook. The pool and its landscaping are so beautiful and so convincing, that family members say they feel as if they are up in the mountains rather than in the middle of a city.
THE STILLMAN POOL This article examines a wonderful project spearheaded by Hanselman Landscape, in Manheim, Pennsylvania. The stunning swimming pool features an eight-foot tall natural rock waterfall that you can swim under. The flowering hillside landscaping and the evening lighting are also noteworthy highlights of this project.
SWIMMING POOL PICTURES This article presents a collection of some of the finest naturalistic swimming pools in the United States.
JIM LAMPL PROFILE Mr. Lampl's skill at incorporating landscape boulders and waterfalls into his swimming pool designs make him one of the most respected Japanese garden builders in North America.
SWIMMING POOL WATERFALL This article details one project where a homeowner transformed his backyard pool landscape into nature-inspired splendor. The article focuses primarly on his waterfall project and the beautiful berms and plantings he installed around it.
---------------------------------------