Sukiya Living Magazine (JOJG)
Planning Your Trip to Japan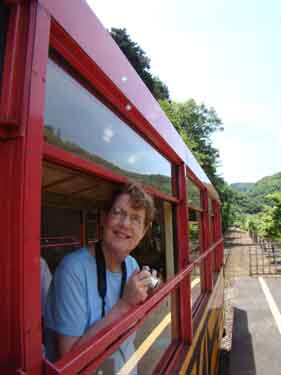 Where should you go in Japan? What should you do? How do you get to those attractions in Japan and where should you rest your head at night? Should you use a professional travel company or go by yourself? What special planning needs to be done before your trip? What maps and guidebooks do you need to consult? What paperwork do you need to have in hand when you arrive?
These and other questions will be on the minds of anyone planning a trip to Japan. Japan is not an easy country to travel in, and the more work you put into your trip before you leave, the more likely you will be rewarded with a smooth and enjoyable journey.
Sukiya Living Magazine organizes several garden and architecture tours to Japan each year, including our WALKING TOUR OF KYOTO. In addition to this, the magazine also publishes regular article intended to help individual travelers who are going at it alone. The articles listed below offer hints and advice to the would-be Japan traveler.
------------------------------------------------------
THE BEST TRAVEL GUIDEBOOKS This article evaluated various travel guides and ranked them according to thoroughness and usefulness. Don't waste your money on mediocre travel guidebooks. This article will tell you what books are worth their pricetags.
LEARNING JAPANESE It's possible to travel in Japan without any Japanese language skills, but it's not easy. Far better to put a little effort into learning some basic phrases (or more) before you go. This article explains several ways to learn Japanese and which ones are generally the most effective.
IS SELF-GUIDED TRAVEL FOR ME? This article explores the risks and rewards of traveling to Japan on a self-guided itinerary. For some travelers this is an exciting and fulfilling way to go. But for many others traveling in Japan by yourself is a recipe for frustration and loneliness. Read this article to learn more about your options.
JAPAN'S MOST POPULAR TOURIST SPOTS What are the "must see" spots in Japan? Where are they and how do you get there? In addition to listing the most visited tourist sites in Japan, this article explores questions such as "Is it really possible to climb Mount Fuji?" and "Is the long train ride to Hiroshima worth the time and expense?"
TRAVELING TO JAPAN - SOME EXPERT VIEWPOINTS This "Viewpoints" style article solicited travel advice from seven different Japan experts. The article asked each expert the following question: "What advice would you offer someone who is planning to visit Japan?" The article includes 7 different essays by Tamao Goda, John Powell, Steve Beimel, Pavel Cihal, Adrian Bennett, Tony Bishop, and Asher Browne.
VISA ISSUES Some travelers to Japan require special travel visas. This article discusses the paperwork required to enter Japan as both a tourist as well as on other occasions.
CHOOSING A TRAVEL AGENCY If you plan to move around by plane or train inside Japan, or if you plan on staying in Japanese hotels, you might want to establish a relationship with a Japanese travel agency. This article discusses your options and where to go for help.
---------------------------------------