Sukiya Living Magazine (JOJG)
Sightseeing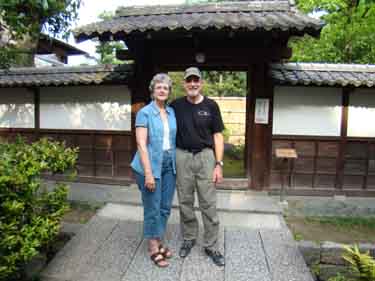 There are so many things to see and do in Japan. How do you decide? After that, how do you actually find the place you are looking for? After all, Japan is not the easiest country to travel in. Many of the signs are posted in Japanese, and public transportation isn't always perfectly intuitive. A visitor can use a little help now and then.
These JOJG articles are about sightseeing in Japan. The articles tell stories, share memories, and explain important travel tips to other kindred souls. There are also a few "day trip" suggestions for visitors who are only visiting Japan for a brief time.
For example, what if you only had one day to sightsee in Kyoto. What would Kyoto's "must see" travel destinations be? How does someone go about visiting those places?
Some of these articles are for the more serious traveler. For example, everyone has heard of Mount Fuji. But where is Mount Fuji? Is it a mountain that can be climbed? If so, do you have to be a sturdy mountaineer, or can ordinary people aspire to climb it? How would a traveler go about doing so?
In addition to conducting an annual KYOTO TOUR for our subscribers, JOJG also publishes regular travel-related articles. A few sample Japan travel articles are posted below for your review.
---------------------------------------------------------------
MOUNT FUJI FACTS Here is the straight skinny on Mount Fuji history and travel logistics. During certain times of the year it is possible to climb Mount Fuji. It takes an entire day, and it requires an above-average level of fitness. Read this article to learn more.
POSTCARD FROM JAPAN This travel article by Ron Karlic chronicled one of the Japan tours he took in 2006. Karlic recommends that you get off the beaten path if you hope to experience the real Japan. Skip the palace gardens and stay at a Kyoto ryokan instead.
HIMEJI CASTLE Himeji Castle is often described as the most beautiful of Japan's surviving castles. At the base of Himeji Castle is a series of traditional Japanese gardens. They are collectively known as Kohko-en. The castle and gardens make for a great day trip for visitors staying in Kyoto or Osaka.
ONE DAY IN KYOTO What are Kyoto's "must see" travel destinations? This article offers suggestions for travelers who only have 24 hours to enjoy the ancient capital.
CHEAP TRAVEL TO JAPAN Let's be honest: Japan isn't cheap, but it's not as expensive as it used to be, either. This JOJG article offers some money-saving tips for the budget minded traveller.
TOKYO'S TOP GARDENS Tokyo is the center of business and government, and isn't known as a mecca of Japan tourism. Still, there are some nice sightseeing spots tucked in here and there, including a few very nice gardens. Read this article to learn more.
---------------------------------------