Japanese Garden Journal
Japanese Water Gardens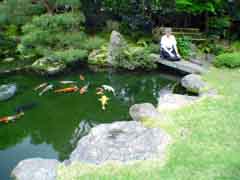 What makes a water garden Japanese in style? Why is the Japanese water garden such a revered form of pond and lake landscaping? How can Westerners add a Japanese touch to their own backyard water features? The answer to these questions can be summed up in one word: Nature.
The evocation of natural patterns is perhaps the central tenet of the Japanese garden tradition. Japanese gardens strive to capture the beauty of the natural world and distill it in a relatively small space beside the home. The Japanese water garden is thus defined by how beautiful it is and how skillfully it evokes the feeling of natural water bodies.
Craftsmanship also plays a critical role. Japanese water garden edge boulders are carefully selected and then placed using the classic gogan-ishigumi stone-setting technique. Pond landscaping is groomed and shaped using special pruning methods. And Japanese koi ponds have sophisticated koi pond filters that keep the water crystal clear.
JOJG publishes regular articles about water gardens and how Japanese gardens can inform even the most casual watergarden enthusiast. A few sample articles are posted below:
---------------------------------------------------------------
POND & STREAM EDGING Use a few extra large edge boulders... Avoid the necklace effect... Employ a variety of edging techniques instead of just one... These are the kind of water garden design lessons that separate Japanese water gardens from less inspired forms.
WATER GARDEN LANDSCAPING This article discusses Japanese plants, boulders, layout, and maintenance techniques. Make your entire garden as beautiful as your pond.
LINK YOUR POND TO THE SURROUNDING LANDSCAPE Too many backyard water gardens look like they were just plunked down there, without any connection to the rest of the yard or garden. This article discusses helpful techniques for establishing a visual connection between your Japanese water garden and the rest of your yard.
STEPPING STONES OVER WATER Known as sawa-tari in Japanese, stepping stones that cross streams or ponds are particularly charming. This article explains details about their design and installation.
THE TROUBLE WITH POND LINERS This article exposes the shortcomings of pond liners when it comes to Japanese garden water features. Pond liners might be adequate in providing backyard fun to an average water garden enthusiast, but they don't get the job done in serious Japanese gardens that have much higher standards of quality and aesthetic beauty.
GOLDFISH POND LANDSCAPING The most important koi pond building techniques are also applicable to goldfish ponds. Read this article to learn more.
---------------------------------------