Japanese Garden Journal
Australian Garden Survey
It's safe to say that nearly every JOJG reader would love to travel to Japan and see the gardens there. Making such a trip has become easier, but it's still a journey that many won't get to make. Fortunately there are more than 300 fine Japanese gardens located outside of Japan. At least 25 of them are in Australia.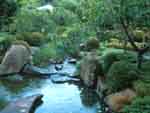 In an effort to identify which of Australia's gardens are particularly noteworthy, we distributed a survey to garden experts there. The survey posed one question: "What are the highest-quality Japanese gardens in Australia?" We encouraged participants to apply their own definition of the word "quality."
Based on limited data, the Melbourne Zoo's Japanese Garden (see photo) emerged as Australia's top garden. Unfortunately, Australia is a large country with a small population, and there are probably less than a half-dozen experts there who have visited more than two or three of their Japanese gardens. It is hoped that this survey will encourage our Australian readers to get out and about. When we do this survey again in a few years, we will hopefully have more data to work with, and the results will be more statistically accurate.

Here are Australia's Top Japanese Gardens:
1. THE MELBOURNE ZOO
Elliott Avenue, P.O. Box 74
Parkville, Victoria 3052
According to our survey results, the Melbourne Zoo Japanese Garden (see photo, above) ranks #1 out of 25 gardens, making it Australia's highest quality Japanese garden. Built in 1990, it is modest in size and located within the grounds of the Royal Melbourne Zoo. The garden features an azumaya, a waterfall, and a winding yari-mizu stream.

2. UNIVERSITY OF SOUTHERN QUEENSLAND
West Street, Toowoomba
Queensland 4350
Also known as "Ju Raku En," this large stroll garden was opened in 1989. It features several sub-gardens of various styles.

3. COWRA JAPANESE GARDEN
Binni Creek Road, P.O. Box 248
Cowra, New South Wales 2794
This five-hectare kaiyu-shiki "stroll style" garden was opened in 1979. It is designed to embody the entire landscape of Japan.

4. IPSWICH JAPANESE GARDEN
Burley Griffin Drive, P.O. Box 191
Ipswich, Queensland 4305
Also known as the "Nerima" garden, this sister-city garden was constructed in 2000. It is located in Queens Park, Ipswich.

5. HOBART JAPANESE GARDEN
The Royal Tasmanian Botanical Gardens
Queens Domain, Hobart, Tasmania 7000
This cool climate garden, linked with sister city Yaizu, features interesting water features and traditional Japanese garden plants.

6. BRISBANE BOTANIC GARDENS
Mt. Coot-tha Road
Toowong, Queensland 4066
This garden was a gift from Japan for Expo'88. The entire garden was moved to its present location in 1989.