Japanese Garden Journal
UK and Ireland Survey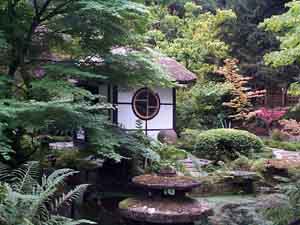 The United Kingdom and Ireland play host to about 50 public Japanese gardens. In an effort to identify the most noteworthy, JOJG distributed a survey to experts there. The survey posed one question: "What are the highest-quality Japanese gardens in the UK and Ireland?" We encouraged participants to apply their own definition of the word "quality." The following six gardens were selected as the top Japanese gardens in that region:

1. Tatton Park (photo, above)
Knutsford
Cheshire WA16-6QN
Most experts agree this is the finest Japanese garden in the United Kingdom and Ireland. Originally built in 1910, it received a major renovation in 2001. Its memorable features include a teahouse and handsome bamboo enclosure fences. From time to time Tatton Park has offered Japanese garden classes and workshops

2. SOAS London
Thornhaugh Street, Russell Square
London WC1H-0XG
The School of Oriental and African Studies has a rooftop dry garden with a checkerboard motif similar to the one seen at Tofuku-ji.

3. Lauriston Castle
Cramond Road South, Davidson's Mains
Edinburgh, Scotland EH4-5QD
This 1-hectare stroll garden was built by Takashi Sawano and opened in August 2002. It overlooks the Firth of Forth.

4. Dartington Hall
Dartington, Devon
Totnes TQ9-6EL
This is a small dry garden that was opened in 1991. It includes an entry gate, machiai, and hillside tamamono shrub arrangement.

5. Irish National Stud
The Irish National Stud & Japanese Gardens.
Tully, Kildare, N7
This site is a combination of horse breeding and JN gardening. Created in 1910, the garden's theme is the "Cycle of Human Life."

6. Holland Park
Kensington High St. and Holland Park Ave.
London W8
Also known as the "Kyoto Garden," this medium-sized pond and waterfall garden was opened in a London City Park in 1991.
----------------------------------------------------------
Photo courtesy of the UK Japanese Garden Society