Journal of Japanese Gardens
Don't Banzai!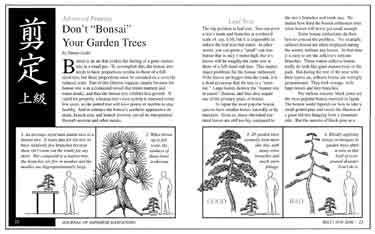 This 6-page article talks about differences in scale between bonsai trees and Japanese garden trees. Titled "Don't 'Bonsai' Your Garden Trees," the article discusses the horrendous results that often occur when unskilled tree pruners (and sometimes legitimate bonsai experts) try to blindly apply bonsai pruning techniques to garden trees.
NOTE: The Japanese term for potted trees is correctly spelled bonsai, not "Banzai," as it is jokingly used above.
Return to list of Sample Articles