Japanese Garden Journal Issue #51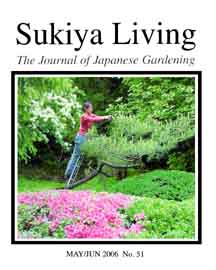 May/Jun 2006
Contents:
Gardens in Japan: 2006 Shiosai Rankings
Basic Pruning: Wisteria Pruning
Viewpoints: Hands-on Professors. Essays by Tamao Goda, J. Skuba, Len Brackett, Bruce Parkinson, Shigeru Namba, Harrleson Stanley, and Steve Beimel.
Advanced Pruning: Don't "Bonsai" Your Garden Trees.
Sukiya Interiors: Japanese Platform Beds, by Craig Klucina.
Chanoyu: Categories of Tea.
The Power of Stone: Set Yaku-ishi First, by Tim Hansken.
Sukiya Living Education: Hidden Benefits.
Leadership Profile: Tony Bishop.
Publisher's Essay: Languages are Alive.
Japanese Garden Myths: Stepping Stone Comfort.
Letters, Q&A: Exception, not the Rule.
Book Review: Cass Turnbull's Pruning Guide.
Calendar of Events
Japanese Garden Marketplace.