Japanese Garden Journal Issue #3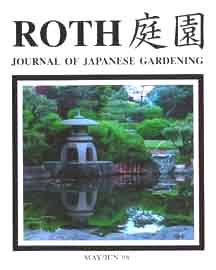 May/June 1998
Contents:
Garden Waterfall Construction: Waterfall Gate Stones.
Japanese Garden Bridge Myths: Gaudy Red Bridges.
The Role of Mimicry.
Japanese Garden Design: Using Inexpensive, Local Materials, by Timothy Hansken.
Who Wants to Wait that Long?
Pruning: From Seedling to Specimen Tree.
A Japanese Touch: Evergreen Plants and Beach Gravel.
Architecture: Low Windowsills to Enhance Garden Views.
Ornaments: Tsukubai Water Recirculation, by David Hockstein.
Travelling to Kyoto, by Tony Bishop.
Tools, Tips, and Techniques: Using a Tripod Hoist, by David Slawson.
Tripod Ladder Manufacturers.
Horticulture: Pine Needle Groupings.
Public Garden Review: Denver Botanic Gardens.
Leadership Profile: J. Skuba, Garden Designer.
Book and Video Review: "Japanese Gardening in Small Places," by Isao Yoshikawa.
The Japanese Garden Marketplace.