Japanese Garden Journal Issue #4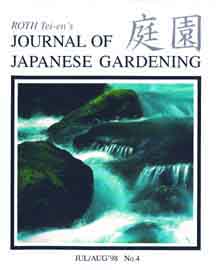 July/August 1998
Contents:
Shoji Doors and a Typical Engawa Layout.
Bamboo Plants: An Introduction to Bamboo Plants, by Bruce Parkinson.
Solid, Rounded Shrubs.
Japanese Garden Design: East-West Style, by J. Skuba.
Using Nature as Our Guide.
Basic Pruning: Shearing Tamamono Shrubs.
Advanced Pruning: Space Between Branches.
The Power of Stone: A Five Stone Grouping.
Architecture: Kutsu-Nugi-Ishi.
Japanese Garden Myths: Religion.
Water Gardening: Go-Sanke Koi - The Big Three.
A Garden Make Over in Houston, by David W. Warren.
Fun with Kanji, by Tony Bishop.
Tripod Ladder Safety.
The Hayward Garden, by Tim Hansken.
Book Reviews: "The Timber Frame House," by Ted Benson.
The Japanese Garden Marketplace.