Japanese Garden Journal Issue #11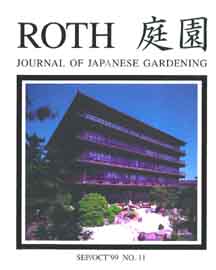 September/October 1999
Contents:
Book Reviews: 1999 Japanese Garden Book Rankings.
Japanese Bamboo Fences: Building Hoop Fences, by Daniel Lurie.
Publisher's Essay: Noisy Festivals.
Natural Patterns: Coastal Outcroppings.
The Power of Stone: The Rocks Have Priority, by Tim Hansken.
Japanese Garden Myths: Horai-san, by Asher Browne.
A Japanese Touch for Your Garden: The Owens Garden, by Sylvia Owens.
Pruning: Two Basic Tree Shapes.
An Encyclopedia of Tree Shapes.
Teahouse Carpentry: Alternative Infill Walls.
Horticulture: Crapemyrtle.
Granite Signposts, by Homer Gee Greene, Jr.
Public Garden Review: The Pagoda Office Building.
Leadership Profile: Leslie Buck.
Japanese Garden Marketplace.