Japanese Garden Journal Issue #12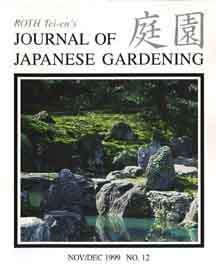 November/Dec 1999
Contents:
How to Control Bamboo, by Bruce Parkinson.
Creating Shade and Intimacy in Large Stroll Gardens
A Holiday Gift for your Gardener or Arborist.
Constructing High-quality Nobedan Paths, by Tim Hansken.
Pruning: Removing Old Needles.
Pond Construction: Link Your Pond to the Surrounding Landscape.
Japanese Garden Myths: Mixing Shapes.
Replacing Moss with Dwarf Mondo Grass, by Asher Browne.
Book Review: Learning to Prune.
Public Garden Review: The Nikka Yuko Garden in Lethbridge, Alberta.
Japanese Garden Marketplace.