Japanese Garden Journal Issue #21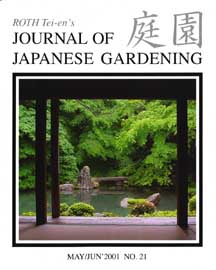 May/June 2001
Contents:
Japanese Maples for Patios
Japanese Garden Carpentry: Gate Proportions.
Japanese Garden Myths: Gaudy Red Bridges.
Publisher's Essay: Decks Arn't So Great.
Touching The Japanese Garden, by Gerald Rainville.
Engineering Materials for High-Quality Vessels.
Characteristics of Good Showa Koi, by Tamao Goda.
A Japanese Touch: A Small Retaining Wall, by David Hockstein.
Q&A: What are Turkey Grits?
Leadership Profile: Mary Bigelow.
Book Review: Japanese-inspired Gardens, by Kathleen Fink.