Japanese Garden Journal Issue #22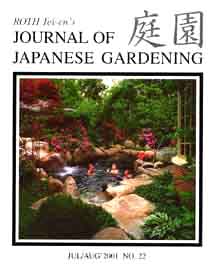 July/August 2001
Contents:
Q&A: Katsura Tops the List.
Teahouse Carpentry: Timber Frame Terminology.
Architecture and Garden Integration: Shoe Removal Stones.
The Rogers Garden in Pittsburgh.
Essay: Bodies in Motion.
Leadership Profile: Interview with Garden Artist, Jim Lampl.
Webster's Definition of the Term, "Myth."
Basic Pruning: Branch Anatomy, by Asher Browne.
Selecting the Front of Specimen Trees.
Common Characteristics of Japanese Garden Specimen Trees, by Tamao Goda.
Japanese Touch: A Garden on a Concrete Slab, by Bart Greenoe.
Pond Filtration: What is a Vortex Settling Chamber?
Training in Japan: Three Months in Kyoto, by Leslie Buck.
Calendar of Japanese Garden Events.
The Japanese Garden Marketplace.
"Kingyo-zukushi," by Kuniyoshi Utagawa.