Japanese Garden Journal Issue #28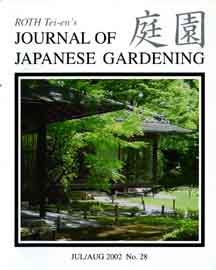 July/August 2002
Contents:
Ornaments: Lantern Site Selection, by Gary Bolstridge.
Basic Pruning: Training Tamamono to Hug the Ground.
The Power of Stone: Fitting Stones Together.
Public Gardens in Japan: Murin-an.
Publisher's Essay: Swimming Holes.
Viewpoints: "High-quality - What does it Mean?" Essays by Sadafumi Uchiyama, David Slawson, Kendall H. Brown, Bardwell Smith, Bill Stufflebeem, Fran Nolan, and Tamao Goda.
Natural Patterns: Bay-head Beaches.
Avoid Racial Slurs.
Advanced Pruning: Three Good Reasons to Start at the Top.
Japanese Garden Myths: Welcome to the Danger Zone.
Tools, Tips, and Techniques: State of the Art Tripods.
Leadership Profile: Tim Gruner.
Book Reviews: "Create Your Own Japanese Garden." and "The Lure of the Japanese Garden."
Japanese Garden Calendar of Events.
Japanese Garden Marketplace.