Japanese Garden Journal Issue #29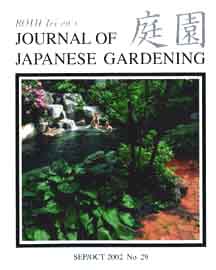 September/October 2002
Contents:
Pool and Waterfall Gardens: Pittsburgh Shangri-la.
Architecture: Characteristics of the Sukiya Style.
Carpentry: A Teahouse Built to Western Specs.
Advanced Pruning: Branches, not Pads.
Chanoyu: The Mood of Tea, by Kathleen Fink.
The Einhorn Garden Pool.
Expertise at Home.
Viewpoints: Native vs. Imported Materials. Essays by Tim Hansken, Takashi Sawano, Bruce Parkinson, Leslie Buck, Peter J. Kendall, Masanori Yamakami, and James T. Hanselman.
Center for Health Insights.
Leadership Profile: Sadafumi Uchiyama.
Book Reviews: "Themes in the History..." and "A Fishkeepers Guide to Koi."
Public Japanese Gardens: The Asticou Azalea Garden in Maine.
Calendar of Japanese Garden Events.
Japanese Garden Marketplace.