Japanese Garden Journal Issue #31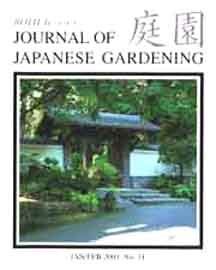 January/February 2003
Contents:
Why is Portland so Good?
Japanese Garden Design: Foreground Elements.
Carpentry: A New Kawara Roof, by John Hall.
Basic Pruning: Connecting the Wave.
JOJG Survey: Great Gardens Can Always be Improved. Professional Survey - Various Participants.
Portland Japanese Garden Critique: Looking Forward, by Kendall H. Brown.
Viewpoints: Dry Garden Controversy. Essays by A. Cap Saheki, J. Skuba, Sadafumi Uchiyama, Phyllis Reynolds, Donald Jenkins, and Tamao Goda.
Counterpoint: David Slawson Responds, by David Slawson.
Japanese Garden Myths: Chinese Gardens.
Ornaments: The Koto-ji style Lantern.
Horticulture: Enkianthus - An Elegant & Versatile Plant.
Leadership Profile: Masayuki Mizuno.
Special Bonus Section: Essays by JOJG Readers.
Japanese Garden Calendar of Events.