Japanese Garden Journal Issue #30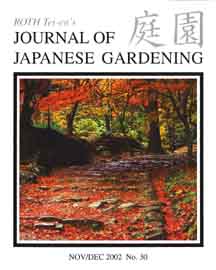 November/Dec. 2002
Contents:
Garden Stepping Stones: The Ikada-uchi Pattern.
Horticulture: Birds, Bees, and Bamboo, by Bruce Parkinson.
Design: Creating Sukiya-style Garden Spaces, by Tim McDaniel.
Neighborhood Walk in Shiga Prefecture.
Use Internet with Caution.
Viewpoints: "Commercialism in Japanese Gardens." Essays by Tamao Goda, Larry Rosensweig, Bardwell Smith, John Hall, Alison Redfoot, Fred Miyahara, and Kathleen Fink.
Ama-ochi Rain Gutters.
The Secrets of Stone: Garden Stone Basics, by John Powell.
Japanese Garden Myths: Give the Edo Period Some Credit.
Nishiki Goi: The Taisho Variety.
Pruning: Basic Cut Terminology.
Leadership Profile: Robert Cheetham.
JOJG's Calendar of Japanese Garden Events.
The Japanese Garden Marketplace.
"Karuizawa," by Hiroshige.