Sukiya Living Magazine (JOJG) Issue #33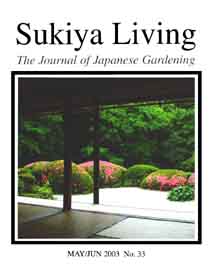 May/June 2003
Contents:
Japanese Clothing: A Kimono Pattern Book, by Tamao Goda.
A New Term Needed?
Viewpoints: "The Symbolism Trap." Essays by Kendall H. Brown, Tim Hansken, Tamao Goda, Bardwell Smith, Takeshi Sawano, Cynthia Kingsbury, and Steve Beimel.
Gardens in Japan: Shisen-do.
Koi-nobori - Japanese Carp Flags.
Architecture: What is a Teahouse?
Myths: The "Snow Viewing" Lantern Myth.
Advanced Pruning: Aesthetic Tree Pruning, by Leslie Buck.
Waterfall and Pond Construction: DBG Liner Pickle.
Leadership Profile: Junji Kagata.
Book Reviews: "An Illustrated Guide to Pruning" and "Architectural Map of Kyoto."
Calendar of Japanese Garden Events.
The Japanese Garden Marketplace.
Back Cover: Fan Ukiyoe by Katsushika Hokusai.