Sukiya Living Magazine (JOJG) Issue #34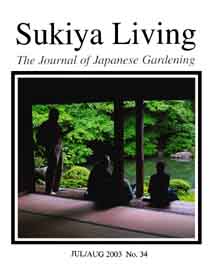 July/August 2003
Contents:
Sukiya-style Carpentry Construction Costs, by Dale Brotherton.
Pruning Weeping Trees
Japanese Garden Profile: Renge-ji
2003 Shiosai Rankings: Gardens in Japan
Viewpoints Essays: "Iemoto, Yea or Nay?" Essays by Tim Brown, David Slawson, Anne G. Alene, Masashi Oshita, Takashi Sawano, and Tamao Goda
Japanese Culture: Tanabata, by Tamao Goda
Lessons from Renge-ji
Nobedan Path Drainage, by Tim Hansken
Pool and Pond Construction: A Gunite Fix for Denver?
Leadership Profile: Ron Herman
Book Reviews: "Zoen Daijiten" and "Bamboo Style."