Japanese Garden Journal Issue #36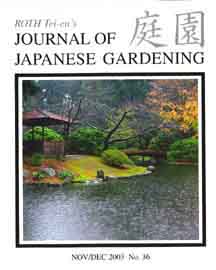 November/Dec. 2003
Contents:
Public Gardens: The Portland Japanese Garden Revisited, by Kendall H. Brown.
Nitobe Garden, Vancouver, British Columbia.
Essay: Curious Agendas.
Viewpoints: Biggest Misconception? Essays by Tamao Goda, Tim Hansken, Steve Beimel, Asher Browne, Cynthia Kingsbury, Bill Stufflebeem, and Akira Nemoto.
Stone Setting Techniques: 15 Lessons Learned.
Advanced Pruning: Bird's-eye Branching.
Horticulture: Scots Pine, by Asher Browne.
Pond and Waterfall Garden Construction: The Trouble with Liners, edited by Eric Herman.
Ornaments: What are Giboshi?
Ground Cover Maintenance.
Japanese Garden Calendar of Events.
JOJG's Kyoto Garden Tour.
Japanese Garden Marketplace.
Back Cover Ukiyoe: "Mochizuki," by Ando Hiroshige.