Japanese Garden Journal Issue #38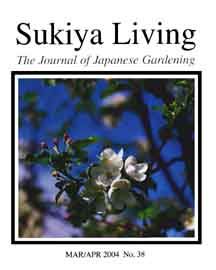 March/April 2004
Contents:
Kyoto Garden Tour: Your Last Chance to Sign Up!
Japanese Garden Gates: The Humble Gate Myth.
Ornaments: Water Basin Layout.
Apple Blossoms in Aomori.
Essay: Good Exercise.
Viewpoints: What is a Japanese Garden? Essays by Masao Saito, Kendall H. Brown, Tamao Goda, William Stufflebeem, Michael Alliger, Reiner Jochems, and Asher Browne.
Human Ergonomics: Barrier-free Access.
Basic Pruning: Don't Let Branches Touch the Ground!
2004 North American Garden Survey.
Centerfold Map of North American's Top 25 Japanese Gardens.
The Japanese Tea Ceremony: Heating Water for Tea.
Liner Follow-up Q&A.
Horticulture: Sasa Groundcovers, by Bruce Parkinson.
Japanese Garden Calendar of Events.
Japanese Garden Marketplace.
Woodblock Print: "View from Masaki," by Hiroshige.