Sukiya Living Magazine (JOJG) Issue #39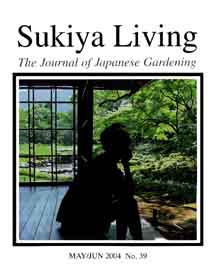 May/June 2004
Contents:
Cover Photo: Murin-an.
Japanese Garden Gates: Two vs. 4-Posted Gates.
Carpentry & Garden Structures: Wisteria Arbor Construction, by Tamao Goda.
Essay: People in Garden Photos.
Viewpoints: "Pure" Designers. Essays by Kendall H. Brown, Asher Browne, Tamao Goda, Tim Hansken, Ron Herman, and John Powell.
Sukiya Living Book Rankings.
Architecture: Residential Japanese Baths.
How-to Questions: Vertical Rocks.
Sukiya Living Myths: Truth in Labeling.
Gardens in Japan: Edo-era at Center Stage.
Paths & Garden Accents: Kui and Roppoh-seki, by Tim Hansken.
A Japanese Touch for Your Garden: My Hydrangea Tea Hut, by Kathleen Fink.
Bonus Article: Test Your Japanese Garden IQ.
Japanese Garden Calendar of Events.
Japanese Garden Marketplace.