Japanese Garden Journal Issue #40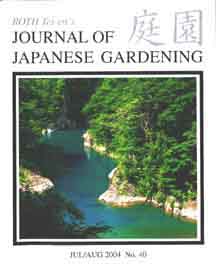 July/August 2004
Contents:
Book Reviews: Gardens of Kyoto, Guide to Japanese Maples.
Interior Decor: Shoji Sliding Doors, by Tamao Goda.
The Dakigaeri Valley, Akita.
Kyoto is Part of the Problem.
2004 Shiosai Project Rankings: The Very Best Gardens in Japan.
Japan's Top-25 Sukiya Environments (Complete List)
Viewpoints: "The Foremost Issue?" Essays by Len Brackett, Asher Browne, Tamao Goda, Tim Gruner, Tim Hansken, Takashi Sawano, and David Slawson.
Basic Pruning: Shear the Right Way.
Advanced Pruning: Shaded Branches.
Pond Construction: Built-in, Plain Vanilla, and Tailored Suits.
Japanese Garden Myths: The Meditation Myth.
Japanese Culture: Shoe Etiquette.
Cultural Trailblazers.
Leadership Profile: Kendall H. Brown.
Calendar of Japanese Garden Events.
Japanese Garden Marketplace.