Japanese Garden Journal Issue #47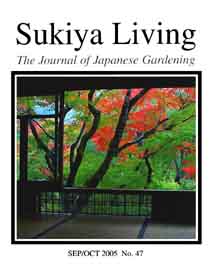 Sep/Oct 2005
Contents:
2005 Shiosai Rankings: Japan's Top Homes & Gardens.
Interior Decor: Yukimi Shoji, by Craig Klucina.
Natural Patterns: Waterfalls.
Publisher's Essay: "Yoyu," by Tamao Goda.
Viewpoints: House Insulation. Essays by Douglas Roth, Len Brackett, Dale Brotherton, Peter Wechsler, Chris Hall, Toshihiro Sahara, and Tom Owens.
Basic Pruning: Weeping Crossovers.
Advanced Pruning: Don't be a Hack. Avoid "Blind Candling."
Tools, Tips & Techniques: The Use of Gravel, by John Powell.
Letters, Q&A: Functional Roofs, Round Gazebos.
A Japanese Touch: Bridging the Gap, by James T. Hanselman.
Book Reviews: Mirei Shigemori, JN Architecture, etc...
Test Your Sukiya IQ #47
JOJG's Calendar of Events
The Japanese Garden Marketplace