Sukiya Living Magazine (JOJG) Issue #48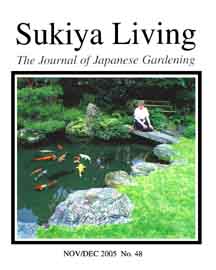 Nov/Dec 2005
Contents:
Cover: Ando Family Koi Pond in Kyoto.
Japanese Maple Pruning
Architecture: Engawa Theory 101
2005 Survey: Kyoto's Most Famous Gardens
Ornaments: The Ginkakuji Style Basin
Publisher's Essay: Creativity is Not the Goal.
Viewpoints: Desired Skills. Essays by Tamao Goda, Tim Hansken, Tim Gruner, Anne L'Heureux, Michael Alliger, Rodney Clemons, and Takashi Sawano.
Tamamono Shearing, by Asher Browne.
Turf Maintenance, by John Powell.
Letters: More on Desert Gardens, Tool Safety.
Gardens in Japan: Yoko-en at Myoshin-ji, by Adrian Bennett.
Book Reviews: Building the Japanese House Today.
Calendar of Events
Japanese Garden Marketplace.
Back Cover Ukiyoe: "Hakone," by Hiroshige.