Japanese Garden Journal Issue #49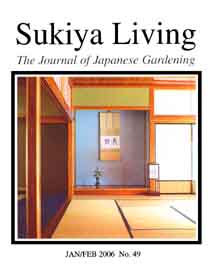 Jan/Feb 2006
Contents:
Cover: Shigure-tei in Kanazawa
Landscape Boulders: Rotating the Rock.
Train in Japan!
Viewpoints: Art, Craft, or Science? Essays by David DeGroot, Ken Lamb, Asher Browne, Fred Miyahara, Tim Hansken, Bill Stufflebeem, and Tamao Goda.
Japanese Garden Construction: Tsukiyama Berms, by Asher Browne.
Sukiya Living Myths: Nature does NOT equal Shakkei.
Tools, Tips, and Techniques: Constant Adjustments, by John Powell.
Advanced Pruning: An ill-advised Hanging.
Japanese Carpentry: Woodgrain, Japanese Planes, and Post and Beam Homes.
Book Review: "For the Record..."
Japanese Culture: A Postcard from Japan, by Ron Karlic.
Calendar of Events
Japanese Garden Marketplace
Back Cover: "Atago-shita Yabukoh-ji," by Hiroshige.