Japanese Garden Journal Issue #53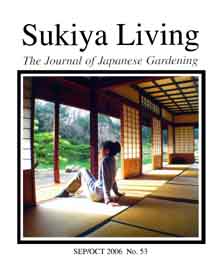 Sep/Oct 2006
Contents:
Landscape Paintings and the Vertical Display of Art.
Rock Garden Designs (Book Review).
Pruning Wisteria (Book Review)
How to build a Shoji Screen and other Shoji Maintenance Tips.
Garden Gates: The New Anderson Gardens Gate, by Tim Gruner.
Publisher's Essay: Saiho-ji's Business Model
Viewpoints: Life's Calling. Essays by Tamao Goda, Asher Browne, Ken Lamb, Bill Castellon, Peter Wechsler, Masashi Oshita, and David De Groot.
Natural Patterns: Fountainhead to Ocean.
Paths: Curved Nobedan, by Tim Hansken.
Advanced Pruning: Relax, Let Branches Fall.
Letters, Q&A: Lawns, Floors, etc...
Leadership Profile: Sachiyo Aoyama.
JOJG Garden Tour Announcement.
Calendar of Events.
Sukiya Living Marketplace.
Back Cover Ukiyoe: "Nagakubo," by Hiroshige.