Japanese Garden Journal Issue #54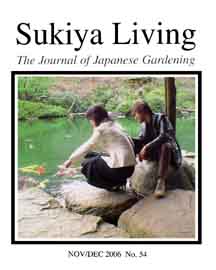 Nov/Dec 2006
Contents:
Cover Photo: Happoh-en in Tokyo.
Japanese Roofs: Japan's Straight Roofs.
Stone Setting: Ignore Soil Lines.
Q&A: Japanese Cherry Tree.
Japanese Homes: Installing Rain Gutters.
Viewpoints: Tiring Elements. Essays by Kazuo Mitsuhashi, Hoichi Kurisu, Tamao Goda, James Hanselman, Fred Miyahara, Tony Bishop, and Peter Bowyer.
Basic Pruning: Camellia Pruning.
Chanoyu: What is a Tea Garden?
Ornaments: Movable Lanterns.
A Passionate Response to "Lame Stone Groupings."
Comments on Public Garden Endowments.
Publisher's Essay: Remove One Item Each Year.
Gardens in Japan: Rikugi-en.
Calendar of Events.
JOJG Garden Tour Announcement.
Out-of-Print Bookstore.
Sukiya Living Marketplace.
Back Cover Ukiyoe: "Ko-ume," by Hiroshige.