Japanese Garden Journal Issue #56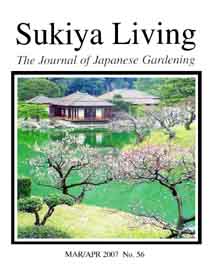 March/April 2007
Contents:
Flagstone Patios: The Japanese Style.
Tree Pruning: Layered Foliage.
Japanese Tools: Dai-making Seminar, by Craig Klucina.
Publisher's Essay: 16th Generation, No Spark.
Garden Layout: Use Tamamono in Place of Rocks.
Train in Japan, by Asher Browne.
Japanese Garden Myths: Turtle & Crane Fairytales.
Viewpoints: How Much do Sukiya Living Spaces Cost? Essays by J. Skuba, James T. Hanselman, John Powell, Ken Lamb, and Tamao Goda.
Nishiki-goi: KHV Threatens Koi, by John Powell.
Letters, Q&A: Straight Lines.
Leadership Profile: Master Carpenter Seiji Suzuki, by Asher Browne.
Book Reviews: Satsuki Azalea Book; BBG's Tree Care Primer, by Chris Roddick.
Calendar of Events.
Sukiya Living Marketplace.