Japanese Garden Journal Issue #55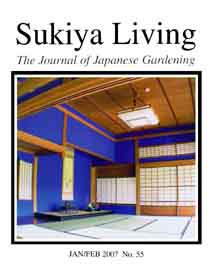 Jan/Feb 2007
Contents:
Azalea Care: Three kinds of Asalea and Rhododendron.
A Wooden Fence Project, by Tom Burton.
Small Garden Design
Japanese Castle Walls & Interior Wall Construction
Viewpoints: Science vs. Art. Essays by Christopher Roddick, Michael Ellena, Tamao Goda, James Doyle, Tom Burton, Gesine Jochems, and Mary Bigelow.
Cover Photo: Kiun-kaku's Blue Room
Publisher's Essay: Function, then Geology.
Letters, Q&A: Fairytales and Symbolism.
Japanese Carpentry: Eave Joinery Details.
Tools, Tips, & Techniques: Harvesting Bamboo.
Leadership Profile: Harrelson M. Stanley.
Book Reviews: Living w. Japanese Gardens, Calendar.
Calendar of Events.
Out-of-Print Bookstore.
Sukiya Living Marketplace.
Back Cover Ukiyoe: "Evening Snow," by Kunisada.