Sukiya Living Magazine (JOJG) Issue #62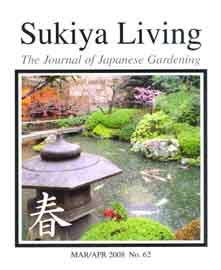 March/April 2008
Contents:
Cover Photo: Heian Kaikan Hotel
Publisher's Essay: Differences in Quality
Viewpoints: Travel to Japan. Essays by Tamao Goda, John Powell, Steve Beimel, Pavel Cihal, Adrian Bennett, Tony Bishop, and Asher Browne.
Garden Pruning Tools.
Horticulture: Nandina.
Geology Terms: Mountains Young & Old.
DIY Carpentry: Cape Cod Azumaya, by Raymond Stephens.
Your Roof: Get it Right!
Basic Pruning: Unwanted Branches.
Japanese Artwork: Hyogu.
Fine Art Restoration in Japan.
Gardens in Japan: Tokyo's Top Ten.
Letters, Q&A
Garden Aesthetics: High Quality (Again!)
Calendar of Events.
Travel to Japan: JOJG's 2008 Fall Walking Tour.
Sukiya Living Marketplace.
Back Cover: "Sunamura Moto Hachiman," by Ando Hiroshige.