Sukiya Living Magazine (JOJG) Issue #63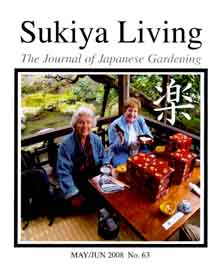 May/June 2008
Contents:
Cover Photo: Seiryoh Japanese Restaurant in Ohara
Publisher's Essay: At the Center of ONE Thing.
Japanese Furniture: Tansu Primer, by David Jackson.
Japanese Garden Design: Courtyard Gardens, by Kathleen Fink.
Japanese Architecture: Low Windowsills
Viewpoints: Good Taste. Essays by Nancy Moore Bess, Tamao Goda, Chadine Flood Gong, James Marzo, Vincent T. Covello, Benjamin Ichinose, and Tim Hansken.
Advanced Pruning: From Seedling to Specimen Tree.
Stone-setting: Edge Stone Standards.
Tools, Tips, and Techniques: Net Loss.
Leadership Profile: Nobuhiko Kobayashi, by John Powell.
Travel to Japan: JOJG's 2008 Fall Walking Tour.
Letters, Q&A
Calendar of Events.
Sukiya Living Marketplace.
Back Cover: "Shimogamo Mitarashi-gawa," by Toh-kyo.