Sukiya Living Magazine (JOJG) Issue #65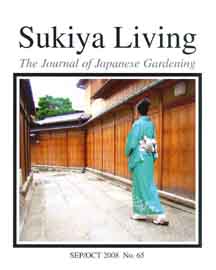 September/October 2008
Contents:
Cover Photo: Ishibe-kohji Area, Kyoto.
Publisher's Essay: Visiting Residential Sites in Japan.
Viewpoints: Ancient Japanese Culture. Essays by Tamao Goda, Hoichi Kurisu, Asher Browne, Lisa Parramore, Bruce Blake, Clifton Olds, and Tim Hansken.
Stone-setting Techniques: Berm Meets Stone, by Timothy J. Hansken.
Advanced Pruning: The Head of a Tree.
Horticulture: Plant Height Misnomers.
Sukiya Living Myths: Washi Paper, not Rice Paper, by Tamao Goda.
Ornaments: Lantern Assembly.
Japanese Garden Research: 2008 Shiosai Rankings.
JN Carpentry: Wooden Braces for your Fence Roof.
Letters, O&A: Skip the Marble Chips.
Sukiya Living in the West: The Phoenix JN Garden, by John Powell.
Certification Exam: Text Your Sukiya IQ #65.
Calendar of Events.
Sukiya Living Marketplace.
Back Cover: "Moon Viewing Boat on the Sumida River," by Kiyonaga.