Sukiya Living Magazine (JOJG) Issue #66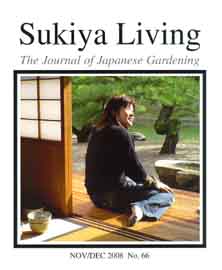 November/December 2008
Contents:
Cover Photo: Tea Volunteer at Ritsurin Koen.
Publisher's Essay: "Designer" Concept is False.
Viewpoints: Wood Sealants? Essays by Peter Wechsler, Len Brackett, Dale Brotherton, Seiji Suzuki, Toshihiro Sahara, Craig Klucina, and Tom Owens.
Layout and Planning: House Shopping.
The Power of Stone: The Hira-niwa Stage.
Public Garden Survey: North America's Best.
Survey Results: The Top-25 Japanese Gardens in North America.
Japanese Garden Myths: Branch Wiring.
Chanoyu: The Circle of Tea Aesthetics, by Tamao Goda.
Koi Pond Filtration: Four Essential Elements, by Tom Burton.
Letters, Q&A: How Much Sunshine?
Calendar of Events.
Sukiya Living Marketplace.
Back Cover: "The Man'nen Bridge," by Hiroshige.