Sukiya Living Magazine (JOJG) Issue #69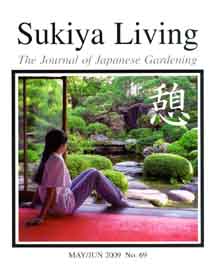 May/June 2009
Contents:
Cover Photo: Yamamoto-tei in Tokyo.
Publisher's Essay: Multi-generational Projects.
Viewpoints: Western Adaptations. Essays by Steve Beimel, Nancy Moore Bess, Craig Klucina, Tamao Goda, James Marzo, Chadine Flood Gong, and Ann E. Grasso.
Chanoyu: Roji, by Asher Browne.
Waterfeature Construction: Stream Layout.
Architecture: False Engawa Ceilings.
The Power of Stone: High-quality Rock.
Advanced Pruning: Needle Grooming.
Pond Construction: Holding the Water.
Sukiya Living Myths: Bamboo Braces.
Sukiya Living Spots in Japan: Heian Kaikan, a "Sweet" Garden, by Adrian Bennett.
Business Profile: Shin-boku Nursery.
Calendar of Events.
Sukiya Living Marketplace.
Back Cover: "Kamata no Ume Park," by Hiroshige.